CHAPTER 1: WHY ARE SPREADSHEETS INEFFECTIVE FOR THE NEW LEASE ACCOUNTING STANDARD?
Introduction
Many companies do not have processes and systems in place today that will enable them to effectively manage all of their lease agreements under the new lease accounting standard. Spreadsheets worked in the past because operating leases weren't on the balance sheet and financial statement disclosures were limited.
This approach may not work going forward as operating leases are added to the balance sheet, primarily due to the challenges of extracting, organizing, maintaining, and reporting on lease data at adoption and beyond. There is a need for different internal controls and better documentation for initial accounting and subsequent changes.

Accountants often default to using spreadsheets, but spreadsheets are risky. There is ample opportunity for error in many areas (e.g., inputs, formulas, importing data, using macros), plus the potential for issues with access control, version control, and how the outputs are used. In this section, we will highlight the risks of using spreadsheets for implementation.
Use this guide to help clients understand the risks of using spreadsheets to implement the new lease accounting standard.




Data collection is challenging in spreadsheets.



A successful implementation checklist starts with understanding and accumulating the necessary lease data. It is essential to consider how to handle data collection.
One of the first steps—and one of the significant implementation challenges—is creating an inventory of necessary data points for all existing leased assets. Within each lease, contract provisions must be reviewed and assessed for their accounting implications. Then, processes must be established for this to happen on an ongoing basis. Certain data required for accounting calculations, such as fair market values, economic lives of assets, and discount rates, will come from sources other than lease contracts.
Lease information within many organizations is usually not centralized in a single database. Real estate leases are typically maintained separately from other leases, and equipment and vehicle leases may be decentralized across the organization and tracked on multiple spreadsheets and in paper files. Under prior lease accounting requirements, a single company-wide application may not have been needed. With the new lease accounting standard, that all changes.
The new lease standard's scope is broader than the previous lease standard—not because the definition of a lease has materially changed, but because excluding leases, such as those embedded in service or other contracts, can result in a material misstatement on the financials. More agreements must be reviewed and analyzed, additional data will need to be gathered from existing service and outsourcing contracts, and documents stored today on paper or in image format may not be easily uploaded.
There are many new required financial statement disclosures—both quantitative and qualitative—that will require obtaining and maintaining new lease data. Also, the accounting team needs to maintain documentation to support assumptions made and calculations performed during the lease accounting process. This documentation will be required for the external auditors during the annual review or audit process.
"Spreadsheets are cumbersome and fragile."
Spreadsheets lack security controls and are easily broken.
Spreadsheets are error-prone. One input or formula error can result in incorrect journal entries. If outputs in an incorrect spreadsheet are used as inputs in other spreadsheets, the errors can compound. Spreadsheets do not have any built-in controls. They are often designed and maintained by individual users that are solely responsible for their accuracy and updating, so their quality depends on the skills and training of those users.
Additionally, it is difficult to ensure the security of spreadsheets. Responsibility for spreadsheets is in the hands of individual users. Spreadsheets are frequently printed out, photocopied, emailed to others, accessed through shared folders, and generally not safeguarded. Additionally, the data in spreadsheets is easily modified and not always protected. Password protection is generally on an all-or-nothing basis and does not provide different levels of user access.
Spreadsheet use for the new lease standard will become extremely complicated and time consuming. The risk of creating financial statement errors is high because of the many manual activities required to track lease activity and maintain the accuracy of lease data. Many companies, regardless of size, won't be able to rely on spreadsheets when lease data moves to the balance sheet, and companies with a large lease portfolio face greater risks.

Spreadsheets waste time, money, and resources.
In general, spreadsheets take longer to design and maintain and are less reliable than CPA software solutions.
The team that is responsible for accounting and reporting will need to create new spreadsheets for lease accounting general ledger data entry, journal entries, notes to financial statements, and management reporting. They will need to have extensive training on the details of the new lease standard to design the form and functionality of these spreadsheets in compliance with the standard.
Once created, spreadsheets will have to be checked for accuracy and updated for changes on an ongoing basis, taking up more staff time. Journal entries must be created using potentially erroneous spreadsheet data.
Enforcing workflows and versions in spreadsheets is challenging and limits efficiency. Further, as spreadsheets get larger, they are increasingly cumbersome to use. Maintaining and sharing current spreadsheets is further complicated when multiple users are inputting data.
Because they slow down the closing and reporting process, spreadsheets end up costing your clients more money instead of saving it as intended. Significant human resources can be required for preparing, revising, correcting, and consolidating multiple spreadsheets across an organization. There is also a potential cost to the company of using disconnected spreadsheets for management reporting or producing inaccurate data for financial reporting.
Are spreadsheets increasing your audit fees?
Spreadsheets lack lease data integration.
A major issue with using spreadsheets, in general, is the lack of integration. In today's environment, it is common for different departments to maintain their lease data in their own spreadsheets.
Spreadsheets are outside of accounting systems and therefore require manual entry into the systems. Pulling them together for consolidated lease accounting and reporting can be very difficult and time consuming. Manually entering lease data takes longer and is more error-prone than an automated approach.
Data living in a number of different spreadsheets does not provide business intelligence, and it can take a significant amount of resources to extract and analyze the data. Also, multiple versions and spreadsheets that are not tied to a unified data source can result in variances and errors that waste time and can create inaccurate financial results. If the lease portfolio includes many assets, integration issues become more significant.

Lease modifications are hard to manage in spreadsheets.
Modification accounting is a challenging new area under the new lease standard. Minor lease events, like assets changing location or cost center, or being returned or bought out must all be identified and accounted for. Even more challenging is accounting for modifications when a lease is extended or an asset is impaired, like a piece of equipment breaking.
With spreadsheets, it is difficult to lock down the initial calculations and apply new lease inputs and calculations only on a go-forward basis as of the date when a lease is remeasured, modified, or impaired. Depending on the size of the lease population, changes can happen daily as asset needs change.
Designing and maintaining spreadsheets that can handle all types of modification accounting requires a deep understanding of the standard. A reliable process with strong internal controls has to be designed to continually monitor and account for modifications of new and existing leases over the terms of all those leases, requiring more staff time.

CHAPTER 2: WHAT ARE THE BENEFITS OF LEASE ACCOUNTING SOFTWARE
---
Introduction
The new lease standard has introduced a tremendous amount of work for your clients and your firm. Fortunately, lease accounting software can help you make implementation and ongoing maintenance as seamless as possible.
With lease accounting software, setting up clients is easy. Simply enter the lease information, and generate journal entries, amortization schedules, and footnote disclosures in one click.

Additionally, ongoing maintenance is exponentially faster with lease accounting software than with spreadsheets, making it an investment that will pay dividends for years to come.
Just how much time will you get back by ditching the spreadsheets? Enter your numbers in the Time-Saving Calculator—the results will surprise you!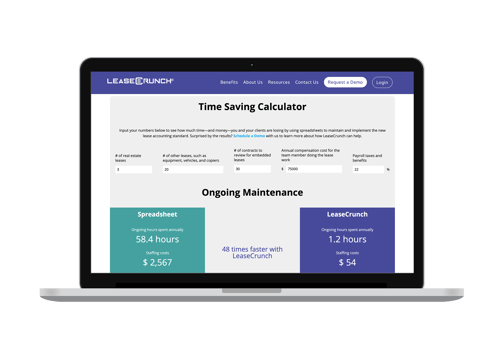 Is lease accounting software more accurate than spreadsheets?
CPA software is developed, programmed, tested, and regularly updated, which simplifies compliance with complex accounting calculations and reporting. Software functionality can validate formulas and ensure that all calculations and formulas are systematically and consistently applied. Accounting software is tested for quality, and formulas cannot be accidentally changed by users. Lease data entered once is available consistently across all functions and reports. Detailed audit trails are available to know when data is changed, and by whom. Calculations and the manipulation of large amounts of data happen much faster than they would if performing the same functions in spreadsheets. These internal accuracy controls are critical features for implementing the new lease standard.
Does lease accounting software include security?
As lease accounting becomes more central to financial reporting, there must be adequate controls over data security and disaster recovery. This is something that spreadsheets do not provide. Databases are designed to hold much more information than spreadsheets, which can be essential for companies with a large number of leases.
CPA software provides password-protected system access that protects sensitive company data. Databases are designed to allow data access to multiple users simultaneously and offer different levels of secure access depending on user roles and needs.

Can lease accounting software integrate with other systems?
Lease accounting software provides the ability to configure downloads of lease data that can then be uploaded into accounting systems, either through direct integration or import. Lease data in an unstructured format (like in paper documents, or PDFs and JPEGs) has to be manually entered or abstracted and converted before it can be uploaded, but data in an existing digital format is ready to be uploaded to a lease accounting database. Data need only be entered once and can be made instantly accessible to authorized users. System outputs of lease data are faster and more reliable.
Is lease accounting software easy to use?
Wizards, alerts, and tips within the software can assist the accounting team with their learning curve on the new lease standard's requirements and provide ongoing reference tools once the standard is adopted. For example, lease accounting software can guide users through a series of questions to ensure that a lease is properly classified as a finance lease or an operating lease.
Lease accounting software also has built-in controls to ensure accurate lease data inputs. It can instantly provide calculations for journal entries, required footnotes, and management reporting. Integrated lease accounting solutions can streamline the journal entry process and provide documentation and audit support.
Lease accounting software offers the ability to maintain tables of lease data and assumptions. A package of standard reports, along with customized and ad hoc reporting capabilities, are available in most software solutions.
---
Curious what other companies did to implement the new lease standard? Discover one public company's solution and why they love it.
---
Is lease accounting software cost-effective?
Lease accounting software can be deployed to give multiple users access at a reasonable cost, without expensive updates.
Software results in fewer processing errors, better data analysis, and provides economies of scale for handling lease transactions efficiently. All of these benefits result in lower finance department operating costs and better reporting.
Audit trails available within the software will improve the external audit process, with potential cost savings and better use of internal resources.
Can lease accounting software manage lease modifications?
Lease accounting software can include walkthroughs of each type of lease modification to guide users through the requirements in the standard. These steps ensure a consistent approach, assist users as they establish internal controls over the modification process, and include documentation of any assumptions made.
Additionally, there is an audit trail for the company and its auditors of both the changed and the original amounts, which spreadsheets cannot provide. This feature will be much more important under the new standard as changes that occur over the life of the leases will have financial statement implications.
How can my clients be sure that lease accounting software is as good as it claims to be?
The best lease accounting software providers have external validations on their calculations and controls—by CPA firms, no less! This is an arduous process to obtain a Systems and Organization Controls (SOC) report each year. A SOC 1 report is designed to ensure that proper controls exist to ensure accurate financial reporting. A SOC 2 report looks at other controls, including those over security and processing integrity.
Of course, all calculations should be manually replicable so they can be spot-checked as well. Some lease accounting software has taken the additional step of having an agreed-upon procedures (AUP) report that attests to individual calculation accuracy.
What are other advantages of lease accounting software?
Designed workflows in software bring economies of scale, along with faster audits. Data is always up to date and accessible. Automated workflows with clearly defined steps for accomplishing tasks help employees to be more efficient. They can better evaluate and improve their procedures, including how they share information with each other. Lease accounting software also provides an audit trail of access and changes that spreadsheets do not.

CHAPTER 3: HOW SHOULD CPA FIRMS CHOOSE LEASE ACCOUNTING SOFTWARE
---

Introduction
Companies preparing to adopt the new lease standard are dealing with decisions now about whether or not they will need to implement a new software solution. There are many providers of lease accounting software in the marketplace. While most software has the necessary basic functionality, some also offer unique solutions and capabilities.

It is important to analyze the firm's objectives and budget to make the right choice when evaluating lease accounting software. The lease accounting software comparison process will require thoughtful planning and research. Below are some of the most important features firms should consider when evaluating which lease accounting software is best suited to an individual firm and its clients.


Take this resource with you! Download the Buyer's Guide for Lease Accounting Software for CPA Firms today.



What to look for in lease accounting software
Accounting
Compliance with the new lease standard's accounting and disclosure requirements is the first priority for any software selection. There may be FASB (ASC 842), GASB (GASB 87 & GASB 96), and IASB (IFRS 16) requirements to consider because even smaller clients might have to comply with both if they have international subsidiaries. Consider a chart of account capabilities, including the ability to customize account numbers and descriptions that match each client's chart of accounts and journal entry formats. Your clients will need functionality to prepare lease amortization schedules that tie out to the accounting system. This includes all required accounts (e.g. right of use assets, short-term and long-term lease liabilities, interest expense, amortization expense, etc.) and journal entries. Also, assess the ease of generating monthly journal entries and importing those journal entries into the accounting systems.
Accounting policy decisions and elections must be made at adoption, monitored on an ongoing basis, and be clearly documented. Evaluate how the software can simplify these elections and facilitate documentation and communication of these policies to all users in future years.
Financial reporting
To handle the new financial statement lease disclosure requirements, look for CPA software that can perform all required quantitative calculations. Also, evaluate whether these calculations can be performed for any combination of leases.
For ongoing management reporting, determine whether the software is flexible enough to report on different types of leases required. Ideally, all data should be exportable into a spreadsheet format. Also, ask whether the CPA software offers the ability to save various custom reporting configurations so that the same reports can be run every month. Reporting capabilities should include both standard and customizable reports.
Why waste your time doing all the calculations and tracking when someone else did all the work and created this for you, at a great price?
– Jeremy, Regional Bank Controller
Lease functionality
To meet the needs of many different clients, consider whether the software can handle all lease types. If the software focuses on solving the problems of one industry, like real estate or equipment, make sure it can adequately address the needs of other asset types.
Because the starting point is a review of the lease documents, the ability to attach these documents is an important feature. This includes not only the original lease documents, but also modification and change justification documents over the life of each lease. In addition, consider the ability to add notes to the lease record, such as explanations of why a certain decision was made, to support the related accounting decisions and calculations.
Scalability
Your clients may have a small or very large number of leases, and these numbers may change over time. Additionally, the complexity of the terms and provisions in their leases may vary greatly. Evaluate the software's capabilities as it relates to the number of users and the size of the lease portfolio. Also, consider what the options are for the software to expand with the number of and type of leases.
Accuracy
The migration of existing client lease data into the selected CPA software is an important early activity in the implementation checklist for new accounting software. It is important to understand how that data will be controlled and checked. Also, determine whether the software has built-in capabilities to ensure lease data is entered correctly, like validations and wizards, along with tooltips and hints integrated into the software so the user has access to the right information exactly when they need it. Consider whether users will have to perform certain calculations outside of the software, and what controls the software has to ensure the accuracy of calculations. The internal controls at the software provider level are an important consideration, so ask whether a Service Organization Controls (SOC) report is in place or in process.
Audits and reviews
Assess how the software can improve audit effectiveness, simplify quarterly reviews, and help mitigate fee pressure. If there are built-in audit trails and transparency into the software's functionality, it will make your work on transition and Day 2 accounting more efficient. Ask the vendor how their CPA software can maximize your firm's audit efficiency, by reducing the number of overall audit hours required and facilitating your ability to use less-experienced associates for lease data entry.

Hardware and software
Ask vendors about the hardware and software associated with their solution, and how it can be integrated with your firm's systems and your clients' existing accounting and ERP system configurations. Understand the vendor's ability to meet potential future needs, including software upgrades and bug fixes. Depending on your firm's needs, determine if the vendor offers software as a service (SaaS), with anytime access from anywhere and no hosting requirements.

Pricing is always an important consideration, because the software you select must be cost effective for all client types and sizes. Prices from different vendors may vary depending on how they price their software—whether it is based on the number of users or the size of the lease portfolio, and whether a standard bundled package is offered or there is separate pricing for each additional feature selected. Be sure to understand upfront costs in addition to ongoing fees.
Training and technical support
Given the time remaining until adoption, it is important to minimize the training required and to try to decrease learning curves. Evaluate how intuitive the software is to use, including whether users are provided with the information they need to accurately enter lease data and run reports. Ask whether any free training is provided to various user groups as part of the software implementation process, whether it is performed onsite or via online meetings, and whether additional training can be purchased if desired. Also determine whether or not there is ongoing technical support, a help desk for users, and whether there are accounting experts available to assist.

What to look for in a lease accounting software provider
Independence
When assisting clients with implementation of the new lease standard and ongoing accounting and reporting, you must maintain independence. Obtain an understanding of how the software has addressed CPA firms' independence needs. If the vendor understands and has incorporated the requirements, they will be able to easily address your concerns about this important issue. Ask your vendor if they adhere to AICPA accounting software guidelines.

Also, consider whether the software can be white-labeled for your clients. This feature helps you maintain your user experience so that your client only sees your branding assets, rather than the vendor's.
Data access and security
Depending on the size of the CPA firm and the number of clients, how the lease data is input and accessed will impact transition and ease of use. Things to consider include whether both the CPA firm and clients can access the same data simultaneously, whether single sign-on capabilities are available to work within existing systems, and how new client data is added, such as whether bulk imports of lease data are possible. Data security is critical, so security protocols over client data should be understood and followed. Ask about the security standards and how security breaches are prevented and detected.
Pricing
To evaluate and compare pricing across vendors, discuss what implementation and add-on charges will be included on initial and ongoing invoices. Some vendors may offer pricing incentives to CPA firms for bringing new clients to the vendor's software platform, so inquire about these or other available discounts.
What to ask when evaluating lease accounting software vendors
Selecting the right software for the transition to the new lease standard is challenging. No system will likely meet every user's needs, but you can use the questions below to assess your requirements and make an educated choice.
Does your software handle FASB, GASB, and IASB requirements?

How many leases can you accommodate? What types of leases?

How many users can have access in total? Can multiple users access the software (and the same data) simultaneously? Are there any additional per-user costs?

Can the chart of accounts be customized? What other customization options do you offer?

How are lease amortization schedules prepared?

Are journal entries automatically generated, and how are they posted to ledgers?

How can accounting policy elections be documented?

What financial reporting options do you offer?

Can information for footnote disclosures be calculated and generated?

Can lease data be exported into spreadsheets?

Do you offer standard reports, and can custom reports be designed?

How are leases input for the first time?

Can lease documents be attached/ imported? Can comments be added?

How are revisions to lease documents maintained?

What controls exist for validating data completeness and accuracy?

How do you ensure your internal controls are functioning as intended? Do you have a SOC 1 or SOC 2 report?

What are your security standards? How do you prevent/detect security breaches?

Are there audit trails and reporting capabilities for CPA firms to use for audits/reviews?

How have you addressed CPA firm independence requirements?

What are the hardware requirements? Do you offer software as a service?

What technical support is available?

What user training and implementation processes exist?

How is your software priced?
LeaseCrunch® provides a comprehensive, cloud-based software solution to help companies implement the new lease accounting standards. Built with the CPA firm in mind, LeaseCrunch is designed to accommodate the needs of companies with large, complex portfolios, while still being a cost-effective solution for companies with as few as 1–5 leases.